have had the priviledge of reviewing a book called "The Stress Cure".  There are just some authors that just "get it" and this author, Linda Evans Shepherd is one of them.  Sometimes you wonder what makes a person an expert on a particular subject that they would write a book about it.  Well…  read this book, understand her story and you'll know that she Just gets it.
Thank you Ms. Shepherd for allowing me to read your book(s).
---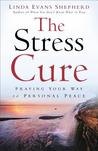 The Stress Cure: Praying Your Way to Personal Peace by Linda Evans Shepherd
My rating: 5 of 5 stars
"We live in a world filled to the brim with advice, and when it comes to dealing with stress, there's plenty of advice to go around. Sleep more, eat better, avoid this, seek out that. But more ideas about how to cope are not necessarily what we need if we're stressed and anxious. What we need is a cure. The true remedy to stress, Linda Evans Shepherd says, is prayer."

The Stress Cure – Praying Your Way to Personal Peace – is the third book that I have read by this author – Linda Evans Shepherd. Again… I was not disappointed. As with each of the other book I've read by her, I was blessed by this one as well.
She has an amazing gift to take the familiar bibles characters and stories that we all know and love and bring them to life right there on the pages. These wonderful bible stories, along with her own amazing life stories (which you will have to read the book to find out about) make her, in my opinion, an expert on matter of stress.
But as she says, the world would have us believe that if we just sleep more, eat better and exercise… then we would have less stress. To a point, that is true. However, in this book you will learn how to recognize God's continual presence in your life and through going deeper into prayer that we can yield our stress to Him. And not just our stress, we can give Him all of our feelings of being Overwhelmed, Stuck, Frustrated, Burdened, Hopeless, Offended, Anxious, Negative, Distracted and Depressed. We can find that Peace That Surpasses All Understanding.
I am grateful to Ms. Shepherd for penning this book for such as time as this in my own life and helping me to "Yield to the Peace of the Holy Spirit" (page 36). I recommend this book, as well as the other's I've read of hers, enough. She is a truly blessed and gifted writer.
Read a sample of The Stress Cure at: http://assets.bakerpublishinggroup.co…
Read my review of Praying Through the Hard Times
Read my review of Experiencing God's Presence
About the Author: Linda Evans Shepherd is an award-winning author, a successful speaker, and a radio personality. The president of Right to the Heart Ministries, she is the author of When You Don't Know What to Pray and Experiencing God's Presence. She and her husband live in Colorado.
Visit the Author's Website at: http://www.sheppro.com/
*Disclaimer: I received a copy of this book through the Revell Blogger Review Program, in exchange for my honest review. All opinions are my own, and no monetary compensation was received for this review.
*Reviews of this book were posted at the following locations:
Amazon, Christian Book, Deeper Shopping, and Goodreads
This book is available online at
Deeper Shopping Books and Bibles

________________________________________________