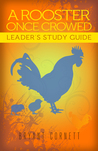 A Rooster Once Crowed: Leader Small Group Study Guide by Bryant Cornett
My rating: 5 of 5 stars
"A Rooster Once Crowed was built for group study. If you loved the commentary on the greatest story ever told, you'll love it even more in community. Leading a study can be daunting. Or if you've done it before, you know that the time involved in preparation can be a barrier. Consider this Leader Small Group Study Guide like a guidebook to a city written by a friend who loves it and has spent years exploring it. This Leader Small Group Study Guide guarantees a deeply profound experience for you and your group."
This Leader's Guide is a great addendum to the book – A Rooster Once Crowed. The Leader's Guide – via e-book – is packed full of resources that will make the Leader's role a lot easier. The author has supplied thought-provoking questions for discussion in your small group. In addition, there are Leader's Only pages with downloadable materials, as well as prayers and a music playlist to go along with the lessons.
It really is a complete guide especially helpful for a novice leader where more time can be spent on the subject versus the overwhelming task of putting together the study, notes, etc. Great job!
*Disclaimer: I received a copy of this book through the "For Readers Only" group at The Book Club Network, in exchange for my honest review. All opinions are my own, and no monetary compensation was received for this review.
*Reviews of this book were posted at the following locations:
Amazon, The Book Club Network, Goodreads, and on my blog at http://titus3.wordpress.com
This e-book is available at the Author's website at
http://www.fullporchpress.com/
________________________________________________