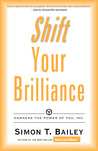 Shift Your Brilliance: Harness The Power Of You, INC. by Simon T. Bailey
My rating: 4 of 5 stars
"Brilliance is a decision. It's time to disrupt your current reality and experience your Shift Into Brilliance"
Shift Your Brilliance: Harness the Power of You, is an interesting book. On one hand it appears to be a run of the mill, typical self-help "listen to me and succeed" handbook. Yet on the other hand it is far more than that. The author, Simon T. Bailey does appear to "drop" a lot of names in the stories he relates through this teaching. But, in my opinion, the name-dropping is what makes this book credible. Not only do we hear about the "who" of the success stories, we also hear the methods of the successes.
As for myself, after 20 plus years in the same industry, just not the same employer, I have seen the entire gambit from "that's how we've always done it" to "okay, who's got some big ideas". I did very much enjoy this book and especially enjoyed this passage… "Shifting your brilliance is, in essence, using a fresh set of eyes to see the same thing everyone else see, but in a unique way and responding brilliantly as a result. " That is not sage advice for your chosen career field, but I think is advice for life.
More about this author at: www.simontbailey.com
*Disclaimer: I received a copy of this book through the "For Readers Only" group at The Book Club Network, in exchange for my honest review. All opinions are my own, and no monetary compensation was received for this review.
*Reviews of this book were posted at the following locations:
Amazon, Barnes & Noble, Deeper Shopping, and Goodreads,
View all my reviews
This book is available online at
Deeper Shopping Books and Bibles

________________________________________________