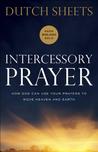 Intercessory Prayer: How God Can Use Your Prayers to Move Heaven and Earth by Dutch Sheets
My rating: 5 of 5 stars
"Prayer for the Impossible. Called foundational, revolutionary, illuminating, and motivating, Intercessory Prayer continues to be a classic work after more than 20 years. This rich, biblical teaching is full of fresh insights showing how vital our prayers are and how God has always planned to work in partnership with us through prayer. As Dutch explains the nuts and bolts of prayer with wisdom, gentleness, and humor, readers will find inspiration and courage to pray for the impossible–and the persistence to see prayers to completion."
I did not realize when I asked to review this book that it had been around for so many years (original year of first publication – 1996). In all these years, the message is as relevant today as it was 20 years ago – if not more so. I had a hard time putting this book down once I started.

The personal stories and anecdotes are humorous, yet deep and powerful. The ease in which the author, Dutch Sheets, teaches this huge subject is inspiring. This is not a book that you read once and relegate to the book shelf, this is a book that must be read and studied and read again.
Though I have only read the book, there is a workbook and 8-session DVD are also available, making this book ideal for small groups, church classes, or individuals who want to go deeper on their own.
*Disclaimer: I received a copy of this book through the Bethany House Blogger Review Program, in exchange for my honest review. All opinions are my own, and no monetary compensation was received for this review
*Reviews of this book were posted at the following locations:
Amazon, Christian Book, Deeper Shopping and Goodreads
View all my reviews
This book is available online at
Deeper Shopping Books and Bibles

________________________________________________