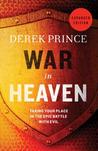 War in Heaven: Taking Your Place in the Epic Battle with Evil by Derek Prince
My rating: 2 of 5 stars
"A cosmic view of God's plan-from start to finish! The Bible says that when God laid the foundations of the earth, the angels were watching. In time, one of those angels would be the main player in a rebellion to wrest God of His magnificent creation. Thus began a battle of epic proportions that leaves today's believer with many questions. -Why did God allow evil in the first place? -If evil was defeated at the cross, why does it continue to exist? -Does spiritual warfare really make a difference? -How are we to await the end of the age?"

I don't think that I have ever read anything by Derek Prince, but I understood him to be an inspired writer and enlightened theologian. So, I was happy when I was given the opportunity to read this book – "War in Heaven".
I must confess, for me it missed the mark and rather than answering many of the questions posed in the overview, it left me confused by the authors admitted personal interpretation of Scripture. Perhaps this is a brilliant work as many other reviewers have pointed out, I just can't agree with their conclusion.
*Disclaimer: I received a copy of this book through the Chosen Books Blogger Review Program, in exchange for my honest review. All opinions are my own, and no monetary compensation was received for this review.
*Reviews of this book were posted at the following locations:
Amazon, Christian Book, Deeper Shopping, and Goodreads,
View all my reviews
This book is available online at
Deeper Shopping Books and Bibles

________________________________________________