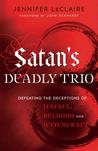 Satan's Deadly Trio: Defeating the Deceptions of Jezebel, Religion and Witchcraft by Jennifer LeClaire
My rating: 4 of 5 stars
"You're on your guard for the Jezebel spirit. But did you know that it doesn't work alone? Just as the holy Trinity works together to deliver, redeem and then guide us day by day, an unholy trinity is doing everything possible to put us in bondage, strip us of our God-given identity and derail our Kingdom purpose.
Satan's abominable threesome–the spirits of Jezebel, religion and witchcraft–is coordinating its attack. Are you? Veteran spiritual warrior Jennifer LeClaire pulls back the curtain on the calculated and systematic strategies of the enemy while offering practical biblical tactics to combat this deadly trio. Her Spirit-anointed discernment will help you understand the hidden schemes of these spirits and, with God's help, to resist them.

Satan's Deadly Trio by Jennifer LeClaire is a great resource that pulls together the deceptive forces that are lurking around so many Christian's and holding them in bondage to the other worldly purposes.
The author, Jennifer LeClaire, is a gifted writer and a widely respected authority on this subject. She brings to the reader the keys to unlocking the "plan of attack" to allow us to take back our lives and re-discover our Kingdom purpose and live in freedom and victory from the deadly trio.
This book will open your eyes to the deceit and deception of the enemy. It will bring you into a spiritual awakening to be able to walk with Kingdom Authority. This is a must read.
About the Author: Jennifer LeClaire's passion is to see the lost come to Christ and equip believers to understand the will and ways of God. She carries a reforming voice that seeks to turn hearts to the Lord and edify the Body of Christ. Jennifer is the director of Awakening House of Prayer in Fort Lauderdale, FL. Jennifer also serves as news editor at Charisma magazine
Visit the Authors website: http://www.jenniferleclaire.org/
*Disclaimer: I received a copy of this book through the Chosen Books Blogger Review Program, in exchange for my honest review. All opinions are my own, and no monetary compensation was received for this review.
*Reviews of this book were posted at the following locations:
Amazon, Christian Book, Deeper Shopping, and Goodreads
View all my reviews
This book is available online at
Deeper Shopping Books and Bibles

________________________________________________