Are you ready to transform history?  This is the HUGE question that is posed by author, William L Ford III, in his book "Created for Influence".
This is a powerful book that doesn't pull any punches.  I knew from the first page of the first chapter that I was in for an interesting and challenging read.
"Abdicating our responsibility of preserving the customs, institutions and general moral conscience that prevent a society from decaying will leave the culture to rot all around us.  At times the Church stares in sickened fascination at what is decaying, longing for the Rapture, as God — and even creation– longs for our Savior to be manifest on the earth through us."  Created for Influence page 17.
This is a powerful book that I feel will require another read, and I dare say time to study the wealth of knowledge and truths put forth in it.  I would urge you to pick up this book and ask yourself if you are ready to transform history.
As always, I am required to post an online review of books that I receive.  Below is that review.
---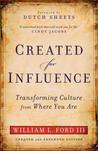 Created for Influence: Transforming Culture from Where You Are by William L Ford
My rating: 5 of 5 stars
"We are being called to a higher realm of influence. The church today is uniquely positioned to influence the culture around her. But Christians are walking away from this opportunity, this responsibility, in favor of building a separate, "safer" culture of our own.
Yet we've been given the tools to break personal strongholds and change the course of nations. Now revised and expanded, Created for Influence, shows how you can do this–and transform culture right where you are. Sustained prayer can release kingdom influence everywhere, from your own home to governments and judicial systems. It can undo demonic assignments and break the bonds that hold lives and nations captive.
This revolutionary book is calling you from a spot on the sidelines to a position on the front lines. It's for believers who are ready to join the fight and grip the heart of God in prayer. Are you ready to transform history?"
There are books… and then there are books. Sometimes these books cause you to nod your head and agree… sometimes, they may cause you to squirm a bit because deep down inside you just know that the author speaks the truth. This is one of those books. For so long we Christians have "played it safe". We keep to our own, so as not to offend anyone with our beliefs. All the while, we stand idly by and watch this world of ours to get darker and darker.
Be careful, as this book will challenge you change your thinking on that. We are Created for Influence… a Godly influence. Not just in our family or neighborhood. But on the world around us. It's time for we the safe and sleepy Church to come alive wielding the Godly Influence we have been gifted with.
God has a plan for our personal destiny and our national destiny that will succeed through us if we will stand the trial of faithful prayer. I urge you to let this book take you on a journey that will radically change your prayer life and your walk with God
About the Author: William L. Ford III, director of the Marketplace Leadership major at Christ For The Nations Institute, also speaks on intercession, unity and revival. He is co-author, with Dutch Sheets, of History Makers. Will and his wife, Dehavilland, live in Dallas, Texas.
Read an expert from this book at:
http://www.scribd.com/doc/229552963/C…
*Disclaimer: I received a copy of this book through the Chosen Books Blogger Review Program, in exchange for my honest review. All opinions are my own, and no monetary compensation was received for this review.
*Reviews of this book were posted at the following locations:
Amazon, Christian Book, Deeper Shopping, and Goodreads,
View all my reviews
This book is available online at
Deeper Shopping Books and Bibles

________________________________________________