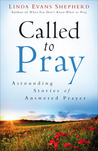 Called to Pray by Linda Evans Shepherd
My rating: 5 of 5 stars
"Most of us have felt it: that unexplained prompting in our hearts to stop and pray for a friend, a loved one, or even a stranger. Sometimes we dismiss the feeling as a stray thought about friends, families, or situations. Sometimes we are even awakened from a deep sleep with an even deeper need to go to God in prayer. Where do those urges come from? Are they truly from God? And do those prayers have any effect on the one we're praying for?
In Called to Pray, Linda Evans Shepherd dozens of inspiring true stories of people who have felt God's call to pray–and the astonishing results of those impromptu prayers. For those who wonder if prayer has any effect or doubt that God communicates with us personally, this heart-stirring book will amaze, inspire, and equip them to respond to those holy promptings"
This author, Linda Evan Shepherd knows prayer. Her life is a prayer. I have been a fan of Ms. Shepherd since I first read one of her books a few years back. This book, Called to Pray, is another in a long line of wonderfully written testaments to the power of prayer. This book in particular will fill your heart with hope and joy in all that our Creator sees and does in the lives of His children. Thank you, Ms Shepherd. I am so looking forward to future titles from you.
Continue reading →